| | |
| --- | --- |
| Show |    Anthony Joshua Facebook live stream |
| Venue |    The Radisson Edwardian, Manchester |
| Date |    Dec 2016 |
| Client |    Sitcom Soldiers/Beautiful Productions/Love/Under  Armour |
| Director |    Ben Thornley |
Anthony Joshua is one of Under Armour's biggest sponsored athletes both in terms of celebrity status and physical stature. Honestly – I felt like I was shaking hands with one of those American foam finger gloves!
Working with Ben Thornley at Sitcom Soldiers, Beautiful Productions and the Manchester agency, Love, we supplied a vision mixing and Facebook livestreaming package for the video sponsored by Under Armour.
In the build up to his next fight, we shot a live Q&A with the big man himself. Colin Murray presented and there was a great chemistry between the two. This was enhanced by the fact that viewers were able to suggest questions in real-time so Colin could glance down at his iPad and cherry pick the best ones. It had a real energy to it, connecting viewers with AJ but also to each other by providing instant reactions with the conversation.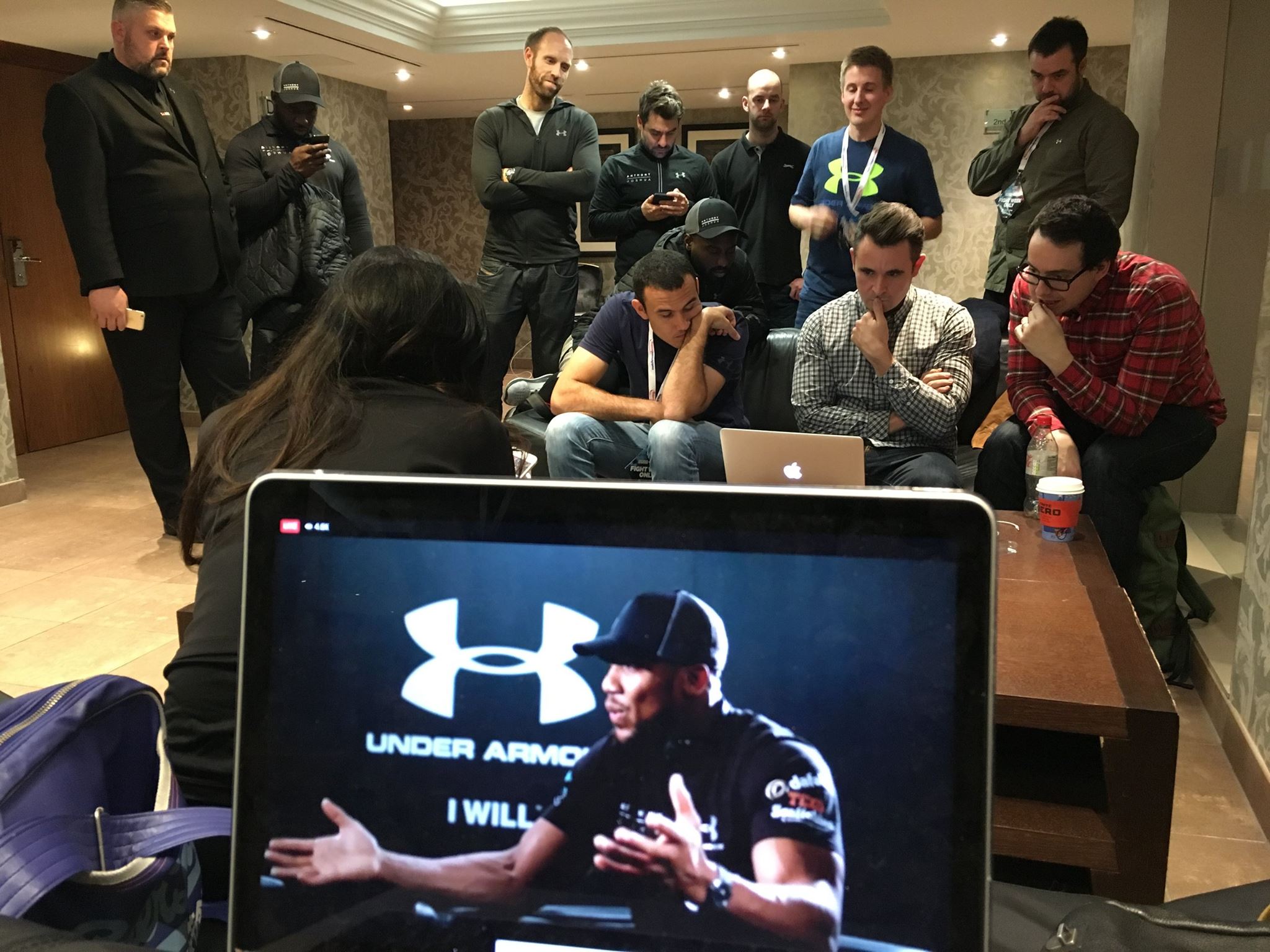 Before the event we went through our usual pre-flight checks regarding internet/redundancy, Facebook contributor settings, etc. All straight forward but we did have to take extra consideration with the potential sounds from kit and crew as the set and control room all had to fit inside the same hotel boardroom.
What we weren't prepared for is just how many viewers connected and how fast it went viral after people shared it. The stream wasn't posted as an event before hand and was only mentioned in a post the day before but, within 1 second, we had 100 viewers. 2 seconds – 500 viewers. 5 seconds – we had an incredible 4000 viewers! I guess that's to be expected when you're a world heavyweight champion boxer with 2.5 million facebook followers!
Although it was relatively simple, it had a high-end quality look. Colin had the idea to use simple hand-written notes in front of the camera during the first few minutes before Anthony arrived. It got the message across but made it fun seeing colin actively wiggle it in front of the camera mirroring his excitement with the viewers. Interestingly such a low-fi method didn't ruin the high quality feel but I'm not sure if that would of been the case if it wasn't for how nice the set looked or how well it was lit.
Beautiful Productions and Love created the idea, set design and project management while Sitcom were responsible for the lighting, camera plot and crewing. Despite the range of people involved we worked effectively as unified team, overall delivering a knockout stream.